Invtation to attend Navratri Puja (Videos)
Feedback
September 2016 – Religious & Other events
Aditi Sahani Concert Flyer – Sun Sep 11 at 5 pm
Read of the month – Sadhguru 1) HOW TO MAKE MARRIAGE WORK 2) VOLUNTEERS – Giving Yourself
Temple Indoor and Outdoor events (Sep 2016)
Your September month 2016 astrological forecast
Temple Upcoming & Ongoing activities
Temple Photo Album
Hinduism News & Views (English)
Book Review (Home at last)
Health News & Videos.
Spiritual Humour
Hinduism News & Views (HIndi)
Spiritual Videos
Live Video Streaming of Temple programs – daily Live streaming of Temple programs – daily.
Doobay Medical Centre – Annandale


---
Your text caption goes here. You can change the position of the caption and set styles in the block's settings tab.
NAVRATRI PUJA VIDEO AT VISHNU MANDIR (CLICK TO PLAY)
2. We'd love to hear from you…

Thank you for reading our newsletter. We have been sending monthly newsletters for over two years and hope you have been reading it from beginning to end. We try to include all the latest temple activities and what else are going on in the Hindu world.
We would really appreciate your feedback and that will make us serve the Vishnu Mandir community better.
I am really grateful to many who have conveyed their appreciation of the content to me personally in the temple and in social gatherings. Please continue to support us and write articles of community interests. Please help us in getting better by writing to us by email at parbhatsood@gmail.com and copy to info@vishnumandir.com.
JAI MATA DI – at your service, PARBHAT SOOD
3. September 2016 Religious & other events
Sep 4 Sun – Ganesh Chaturthi from 8 am
Sep 11 Sun – Ganesh Visarjan at Jack Darling park. Mississauga, at 1:30 pm
Sep 12, Monday – Padma Ekadashi
Sep 15 Thursday – Anant Chaturdashi
Sep 16 – Purnima, Satyanarayan Katha at 6:30 pm
Sep 17 – Sunday – First shraadh
Sep 25 – Sunday – Jalaram Bhajans at 4:30 pm
Sep 26 – Monday – Indira Ekadashi
Sep 27 – Tuesday – Pradosh Puja
For more info. on time etc please call: Vishnu Mandir 905-886-1724
5. Read of the month -
How to Make Marriage Work
On this Spot, Sadhguru addresses a question with far-reaching consequences in life – to marry or not to marry? And what are the fundamentals of successful marriage?

One of the questions that I am asked frequently is how to choose the right person for companionship and marriage. Trying to find the perfect partner is expecting the impossible. One reason why marriage can be tumultuous is because you have to share so many things in this relationship. The issue is neither marriage, nor is it about a man and a woman, husband and wife. In any situation where you are forced to share a lot with other people, you will face similar problems.
Trying to find the perfect partner is expecting the impossible.
In a marriage or cohabitation, you usually have to share the same space, the same everything. Consequently, every day, you are treading on each other's toes in one way or the other. In other relationships, if someone is overstepping the boundaries, you can create a distance. Here, you do not have a choice. The greater the overlap, the greater the possibility of friction.
There are many couples who are living beautifully together, who are profoundly in love, and who are fantastic companions to each other. At the same time, this relationship can assume the ugliest forms. One contributing factor is that generally, no one gets to know the ugly things that are happening behind closed doors. If someone on the street steps on your feet, you will react in a different way, because everyone is watching. But in this relationship, no one is watching, so anything can happen.
What is needed to make a marriage successful is not the perfect person – there is no perfect person on the planet. What you need is absolute integrity. Whether someone is watching or not, you should act in the same way. Who you are should not change depending upon where and with whom you are. Once you have established your way of being, interacting with another person can be a joy. Another aspect is that if you try to extract something out of each other, and you or the other person does not get what he or she wants, there will be constant conflict.
What you need is absolute integrity.
You as an individual have to evaluate if this is just a passing interest, or if there is a strong need to have someone by your side. Not everyone has to get hitched, nor does everyone have to live alone. This is something that individuals have to look at for themselves. You should only get married if there is such a strong need in you that without a companion, you cannot live, and you believe marriage will be a stepping stone for your wellbeing.
There is nothing wrong with getting married. But if you get married without you having the need to do so, then it is a crime, because you will cause misery to yourself and at least one other person. We would advise everyone to get married if the human race was in danger of disappearing, but the human population is exploding. If you do not reproduce, you do humanity a great service. Leaving that aside, the important thing is this – not everyone needs to get married.
When someone asked Gautama the Buddha, "Should I have a companion?" he said, "It's better to walk alone than to walk with a fool." I am not that cruel. I am saying: if you find a similar fool, then something can be worked out. But based on your need – not because of what society is saying, not because others are getting married, not because you worry about being alone.
Companionship or marriage does not solve existential problems. It just takes care of some of your needs.
What is your intention for your companion? It should not be something like, "If I'm getting lost, let me have another person who gets lost with me." Companionship or marriage does not solve existential problems. It just takes care of some of your needs. If you have strong physical, emotional, or psychological needs, then you should look for a companion. You should not get married for social and financial reasons alone.
Another point to remember is that you get married because you need support. This support may be physical, emotional, psychological, social, or financial – whatever it may be, you do not get married out of charity for the other person. You get married because you need certain things. If the other person is willing to provide them to you, and you live in gratitude, then there will not be too much friction.
Do not look for the ideal man or the ideal woman – there is none. If you understand that it is your needs that make you seek a companion, find someone who is reasonably compatible with you. If you accept, respect, love, include, care for, and take responsibility for each other, it can be a beautiful relationship.
Love & Grace
Sadhguru
Volunteering – Giving Yourself
Many a times, Various Organizations has mentioned that it is run largely on the strength of the volunteers. Here, the Master explores the essence and importance of volunteering.
---
All that you have today with you is something you have borrowed from this planet. It is not really yours, you can use it, you can enjoy it. Though you believe you own it, you cannot really own it. You believe you own your house, you believe you own your clothes, you believe you own your children, your wife, your husband. They are here for you, you can enjoy them, but when you have to leave, you have to leave them and go.
Nothing really belongs to you. What doesn't belong to you, you cannot give. There is really no giving. There is no value to this kind of giving but you need a means to give.
Fundamentally, the only thing that you can give is yourself but you do not know how to give yourself simply, so you give using things as a means. You are using activity as a means to give yourself. If you are not aware of this, then giving becomes a great problem. If you do not make yourself willing to give yourself, it becomes a very painful process.
Volunteering is a process of giving yourself.
When you understand giving as giving only things, then naturally fear will come into you because "If I give away everything what will happen to me?" It is because of this understanding, we fear giving. People have become stingy, miserly with their love, with their joy, simply because they only think that giving means things. How much, how many things can you give?
From this economy, slowly we have become less loving, less joyous, less peaceful, because we are afraid of giving.
Volunteering is a process of giving yourself. It's an opportunity to give yourself. You can simply sit here, close your eyes and give yourself to the world. It is possible but that level of awareness is not there in most human beings. Unless there is activity, people do not know how to give themselves. They need action to give themselves to something. Normally, what little work we do, calculations are there, "How much should I do? Why should I do? What will I get out of this?" In these calculations, all the beauty of doing is gone and the very process of life has become ugly. Most of the things that you are doing in your life are things that you have chosen to do. In spite of that, we are doing simple activities with so much struggle because we are unwilling to give. Somewhere we have forgotten that we started this willingly.
Volunteering is a way of learning to make our lives into a process of just giving and being willing. Not just willing to do this or that, simply willing.
No spiritual process will happen to any human being unless he becomes willingness. Thus, volunteering is a tremendous tool in creating that willingness. This kind of willingness to start with is better when it happens in a protected atmosphere. That is why the whole process of Isha is happening as volunteering to just provide you with that necessary protected atmosphere where you can be 100% willing and not be exploited. We are always stressing on volunteering, so that you use the atmosphere to become willing. Then it will extend into your daily life also. Above all, it will permeate into your being, that you become willingness.
---
6. Temple – indoor/Outdoor events in Sep 2016
Ganesh Chaturthi puja on Sunday Sep 4 – starts at 8 am with sthapna, havan, puja, abhishek followed by regular Sunday service.
Ganesh Visarjan on Sunday Sep 11 at 1:30 pm at Jack darling Park in Misissauga, Bus leaves at 1:00 pm. Advance booking required for the bus.
Pradosh Puja on Tue Sep 27th at 6:30 pm (could be combined with Monday Shiv Puja – please call the temple for more info)
Jalaram Satsang – Sep 25 Sunday at 4:30 pm
Sarvapitra Shraadh – Fri Sep 30th
(During the month several events gets added & time can change, please check Vishnu Mandir website or call temple at 905-886-1724 for latest time & info)
YOUR VIDEO HOROSCOPE (IN ENGLISH) JUST CLICK AND ENJOY (PROVIDED FOR ENTERTAINMENT)
.
U.S. Postal Service Honors Festival of Diwali with a Forever Stamp
Hindu Holiday Celebrated in Late October
August 23, 2016
WASHINGTON — The U.S. Postal Service will commemorate the joyous Hindu festival of Diwali with a Forever stamp. The Wednesday, Oct 5, first-day-of-issue dedication ceremony will take place at the Consulate General of India, New York.
The stamp design is a photograph featuring a traditional diya oil lamp beautifully lit, sitting on a sparkling gold background. Diya lamps are usually made from clay with cotton wicks dipped in a clarified butter known as "ghee" or in vegetable oils.
Also known as Deepavali, Diwali celebrates the triumph of good over evil. Spanning five days each autumn, it is considered by some to be the start of the new year.
On the Hindu calendar, Diwali falls on the eve of, or on, the new moon that occurs between mid-October and mid-November. In 2016, the main day of the festival will be celebrated Oct. 29 for South Indians and Oct 30 for North Indians.
Diwali is a shortened version of the Sanskrit word Deepavali, which roughly translates as "a necklace of lights." During Diwali, the flickering oil-wick diyas sprinkle the homes of observers around the world.
Before the festival, many Hindus traditionally go shopping, clean their homes, open their doors and windows, create intricate rangoli — a vibrant floor pattern traditionally made from materials such as rice powder, colored sand and flower petals — and light diyas with hopes that Lakshmi, the goddess of wealth and prosperity, will visit. In some regions of India, people play games, just as Hindu lore says that the god Shiva did. On the festive main day of the holiday, families pray for Lakshmi, dress up in their best clothes, enjoy lavish feasts and sweets, exchange gifts and light fireworks. Diwali also marks the new year for people in Gujarat and a few other states of India. Diwali also is celebrated as a major holiday by followers of the Jain and Sikh faiths.
Sally Andersen-Bruce of New Milford, CT, photographed the diya. Greg Breeding of Charlottesville, VA, designed the stamp and William J. Gicker of Washington, DC, service as the project's art director.
The Diwali stamp is being issued as a Forever stamp. This Forever stamp will also be equal in value to the current First Class Mail 1-ounce price.
The Postal Service receives approximately 40,000 suggestions for stamp ideas annually from the public. Stamp subjects are reviewed by the Citizens' Stamp Advisory Committee. Of that, approximately 25 topic suggestions for commemorative stamps are selected by the Committee for the Postmater General's approval.
The Postal Service receives no tax dollars for operating expenses and relies on the sale of postage, products and services to fund its operations.
---
Spiritual guru Pramukh Swami Maharaj dies at 95
Pramukh Swami's last rites was conducted on August 17.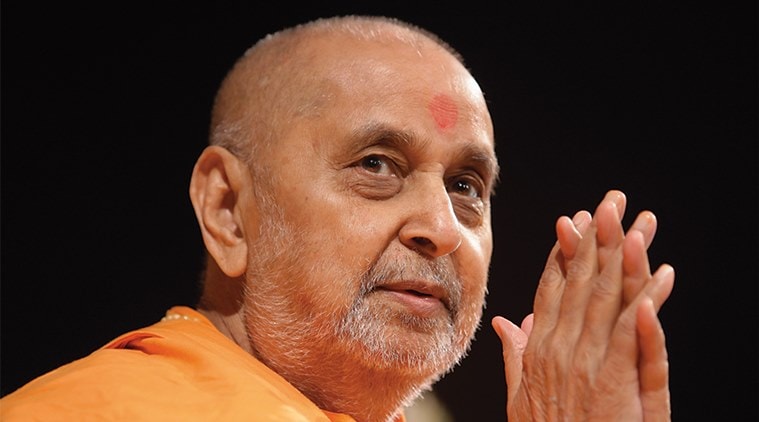 Pramukh Swami Maharaj passed away today at Sarangpur.
Pramukh Swami Maharaj, spiritual guru and head of Bochasanwasi Akshar Purushottam Swaminarayan Sanstha (BAPS) of Swaminarayan sect, passed away at Sarangpur in Gujarat's Botad district Saturday evening. He was 95. Under treatment at Sarangpur temple of the sect for lung infection, he breathed his last at 6 pm. "He was a heart patient and was being treated for a lung infection. His last rites will be conducted on August 17," said a close associate of Pramukh Swami Maharaj as a steady stream of devotees started arriving at Sarangpur to pay their final respects. For the last two years, old age and frail health had restricted Pramukh Swami to remain within the BAPS Swaminarayan temple at Sarangpur.
Thousand of his devotees started thronging temples of his sect in various cities and towns and women were seen crying at those temples, mourning his death. Condolences poured in from all quarters on Saturday evening after the news of his death spread. Posting a picture of the spiritual guru holding his folded hands, Prime Minister Narendra Modi wrote on Twitter: "HH Pramukh Swami Maharaj was a mentor to me. I will never forget my interactions with him. Will miss his presence." In another tweet, he wrote: "HH Pramukh Swami Maharaj, a stalwart among humans who embodied compassion & humility. His service to society will always be remembered." Political leaders cutting across party lines and other religious leaders also expressed their condolences.
Paying tribute, Congress president Sonia Gandhi said he will always be remembered as a "crusader of humanity, religion and spirituality". His death is a huge loss and he leaves behind a rich legacy, the Congress president said. Congress vice-president Rahul Gandhi said the spiritual guru's message of compassion and service will remain an "inspiration".
"Deeply saddened by the passing away of HH Pramukh Swami Maharaj. His message of compassion & service will remain an inspiration," the Congress vice-president said on Twitter. Gujarat Chief Minister Vijay Rupani, deputy CM Nitin Patel and former chief minister Anandiben Patel too expressed grief over Swami's demise.
Aam Aadmi Party (AAP) convener and Delhi Chief Minister Arvind Kejriwal will be in Gujarat to pay his tributes to Pramukh Swami Maharaj on August 16. "Pramukh Swamiji was epitome of the great philosophy of uniting theworld with his teachings," AAP leader Ashutosh tweeted.
Pramukh Swami Maharaj, the fifth spiritual successor of BAPS, was born as Shantilal Patel at Chansad village in Vadodara on December 7, 1921. He left home in 1939 to become a sadhu. He was just 28 when he was appointed as BAPS pramukh (president). He became the spiritual guru of BAPS in 1971 after Yogiji Maharaj, the fourth spiritual successor of BAPS, passed away.
During his lifetime, he created and consecrated 1,100 temples and giant cultural complexes like Swaminarayan Akshardham in New Delhi and Gandhinagar. In his first overseas tour after becoming guru, he consecrated the first BAPS mandir in New York in 1974. At the age of 62, Pramukh Swami suffered a heart attack. Later, in 1998, he underwent a heart bypasssurgery in New York. In 2012, he also got a pacemaker implant in Ahmedabad.
In 2000, he addressed the Millennium World Peace Summit of Spiritual Leaders at the United Nations and in 2004, he was awarded the Lifetime Achievement Award from the US government. He travelled extensively, both in India and abroad, holding "satsangs" and creating a large base of devotees.
---
An herbal empire:
The Patanjali Food and Herbal Park occupies 150 acres south of central Haridwar; the modest sign by the entry gate lists divisions of food processing.


The Innovative, World-Class Patanjali Food & Herbal Park
______________________
Baba Ramdev and Acharya Balkrishna repackage ancient ayurveda with hightech processing and marketing savvy to snatch $1 billion of market share
______________________
While researching our story about Haridwar for Hinduism Today's Apr/May/Jun, 2016, issue, our correspondent Rajiv Malik and photographer Devraj Agarwal also toured the state-of-the-art Patanjali Food and Herbal Park 20 miles south of Har Ki Pauri Ghat. This is their report.

MOVE OVER, COLGATE PALMOLIVE, AN upstart Indian company's toothpaste brand is gaining national market share at the expense of your 110-year-old, us$16 billion multinational corporation. Domestic brokerage houses estimate Colgate's overall earnings could drop 10 percent from the competition of Patanjali Ayurved on just this one product. The company, founded in 1997 by sadhu and yoga teacher Baba Ramdev and ayurvedic doctor Acharya Balkrishna, both of Haridwar, has rattled more than just one of India's biggest corporations.
This spring, we visited Ramdev's Patanjali Yogapeeth, Ayurvedic college and research hospital in an industrial area of Haridwar near the Ganga river. And we explored, via electric card, the nearby 150-acre Patanjali Food and Herbal Park (www.pfhppl.com).
My family have been using Patanjali products for years, so I was fascinated to see where and how many of them are produced. Yes, we use the tangy toothpaste that is impacting Colgate's bottom line, along with spices, murraba fruit preserves, papad wafers, rice, wheat flour, candies, chawanprash tonic, health drinks, fruit juices, biscuits, other foodstuffs, medicines and personal-care items such as shampoos, soaps, etc. We have found all to be of high quality.
Moreover, they have an appealing swadeshi aura about them. Swadeshi, literally, "of one's own country," was conceived in the 1850s to counter the influx of British goods that was decimating India's local industries. The "made in India" strategy later became a mainstay of Gandhi's fight for independence. By focusing on aryuvedic products and traditional Indian foodstuffs, Patanjali has tapped into the swadeshi ideal, while utilizing the most advanced production machines available worldwide.


(LEFT) PATANJALI GROUP (INSET) DEVRAJ AGARWAL
Acharya Balkrishna and Baba Ramdev address a press conference at the launch of Patanjali Atta (wheat) Noodles in Delhi
Baba Ramdev and his long-time friend and colleague Acharya Balkrishna have made good use of the sadhu's popularity across India, developed through his televised yoga programs. The brand was automatically trusted. Guided by some skilled managers, manufacturing and marketing have grown rapidly. As of March, 2016, annual sales were us$670 million and increasing. The company proudly uses its profits for social service projects, which boosts its swadeshi appeal even more, especially coupled with Ramdev's long-standing anticorruption campaign.
Traditional Goods, Modern Methods
The Herbal Park focuses on juices, herbal products and personal goods such as toothpaste. Medicines are produced at other locations, and various food products, such as biscuits, are outsourced. The sheer range and scale of Patanjali aryuvedic, herbal and food products is amazing. On their website, www.patanjaliayurved.net, I counted 147 individual medicines for sale and 69 formulations of those medicines for the treatment of specific diseases, including multiple sclerosis, osteoporosis, infertility, hepatitis A, B and C, diabetes, mental disorder and cancer. The site follows Amazon's pattern of swift delivery to the customer's home.
Driving the company's current growth is its move into the "fast-moving consumer goods"
(FMCG) market. These are products sold through an extensive distribution network in high volume at a relatively low profit margin. In general these are items consumers use daily, such as food, toiletries, drinks and common medicines. The website offers over 200 FMCG products—which are also available at 20,000 franchised outlets throughout India, according to a recent report in The New York Times. Hundreds of them can be purchased in North America at Amazon.com.

Everything you might need: Adult toothpaste, kids' toothpaste, body lotion, coconut oil, aloe vera gel, medicated shampoo, rose water, foot cream, body lotion, medicated face cream, almond oil and eye drops
An instructive comparison in Haridwar itself is with the Gurukul Kangri Pharmacy, a company associated with the Gurukul Kangri Vishwavidyalaya university, where Ramdev himself studied as a young sannyasi. This pharmacy, once famous, fell on hard times due to management issues. On a recent visit we found its production methods a century out of date and unable to compete with Patanjali's clean, high-speed production lines.
"High tech" only begins to describe the Tetra Pak packaging machines at the Patanjali Food and Herbal Park. The scene could be a backdrop in a futuristic science fiction movie, with its network of stainless steel pipes, computerized processing units and filling lines, all supervised by a skeleton staff in a virtually sterile environment. Some processes are decidedly low-tech, engaging dozens of workers, such as peeling the skin off the tons of aloe vera that had been delivered shortly before our arrival. And while fast-moving machines pack toothpaste into tubes, humans must inspect the tubes, pack them into boxes and manage the huge flow of product on the main floors.


Inside the factory: A huge shipment of aloe vera awaits processing
K.K. Mishra, head of the park's public relations, told us this is one of the largest multi-product herbal facilities in the world. "To give you an idea," he explained, "25 truckloads of amla fruit are delivered to us daily. From these we can produce 6,000 liters of amla juice an hour with very little waste. The Tetra Pak machines can produce up to 27,000 juice packs, 200ml to one liter, per hour." He told us 10,000 people work at the park, most on a permanent basis. A 100,000-square-foot warehouse stores 500 high-quality herbal ingredients procured from all over the world, and each finished product is fully tested in a central lab.
Talented engineers designed this state-of-the-art facility to operate with admirable efficiency, thus keeping prices affordable to the ordinary Indian household. Everywhere we saw attention to cleanliness, quality of ingredients and packaging. It is a testament to the dedication and managerial skill of Baba Ramdev and Acharya Balkrishna that they could create an industrial project of this size and scale in less than one decade.
Social Emphasis
We met with Baba Ramdev's personal assistant, Siddhartha Bhargava. He told us the food park is more a social project, than a commercial venture. He argued that products offered by multinational companies are out of sync with the Indian lifestyle. It has been Ramdev's goal to develop products with an Indian soul, and to end the country's dependency on multinationals. Bhargava explained that the need of the hour is to offer food, herbal and cosmetic products based on ancient ayurvedic traditions and science. The company, he said, takes no subsidy from the government and is competing well in the open market, since there is great demand for its products.
Another Patanjali business basic, K.K. Mishra added, is that farmers be paid a fair price as a means to alleviate rural poverty.


Acharya Balkrishna is the managing director of Patanjali Ayurved, Ltd. During our brief interview with him he shared this message, "The propagation of ayurvedic products is a role God has given us to perform and which we are doing with passion and commitment. The ayurvedic products given to us by our ancient seers have immense power to cure diseases. We have forgotten this, but now are getting back to it." The problem with health care today, he explained, is that people wait to get sick, then have to take medicine to be cured. The Indian ideal is to save ourselves from disease in the first place by living a life based on ayurveda and yoga. We must learn to find moments of peace in the midst of today's hectic life, so full of stress and strife.
Balkrishna admitted, "There are vested interests in not letting ayurveda become popular again in India. The medicines are very reasonably priced, so diseases can be fought with a few dollars worth of ayurvedic products, rather than the thousands of dollars which would be spent on hospitals. The benefits of ayurveda and yoga are explained in my book, A Practical Approach to the Science of Ayurveda. We are also working on a World Herbal Encyclopedia."


The in-house testing lab
"We are happy that God is using us as his tool to perform all this," Balkrishna concluded. "With the blessings of the Almighty and the hard work of Pujya Swami Ramdev Ji, we have been able to do things not only in India but at the international level, too. I feel this is just the beginning, and we will be able to do a lot more in times to come."
.
The Ramayana Enters the
Gaming World on Mobile Devices
THROUGHOUT HISTORY HINDUISM'S wealth of literature, including scriptures, poems and epics, has been passed from generation to generation. Originally transmitted by word of mouth through story, song and play, this cultural and religious wealth was eventually scribed in the written word. Over the centuries stories such as theRamayana and Mahabharata have taken many forms, in recent times on TV shows and in comic books. But can these forms of communication cut through the plethora of digital entertainment, education and distraction that fill the lives of today's youth? One company feels they have a 21st century option.
HINDUISM TODAY recently sat down with Naryanan Vaidyanathan, Director and CEO of Gamaya Inc. in San Jose, California. He and his team have developed (and are continuing to build on) Gamaya Legends, a game for mobile devices with the goal of presenting youth an engaging and visually rich presentation of theRamayana and its characters. It also features physical toys which can interface with the game.
"As a kid, I used to enjoy visits to my grandma's house during summer vacations. She would tell us stories from Indian mythology and folklore in great detail and with powerful dictation, painting great images in my mind that have always stayed with me. When I had a daughter, I wanted her to have the same experiences and know all about these great stories and characters. So I first bought some Amar Chitra Katha comics that I had read as a kid. These comics were great for me, so I thought they would get her interested, but the language and artwork was from my time and didn't resonate with her. As I told her these stories every night, I thought about how kids these days need a more enriching experience. They are used to high-quality presentations likeThe Lord of the Rings or Harry Potter, and unless we can meet them at that level, these epics will fade away from their memories.
To learn more visit: restorethelegend.com
ALL PHOTOS GAMAYA INC.
An engaging introduction: The opening screen of the Gamaya Legends mobile game
"So I set out to recreate these epics in a language kids today will understand. Our core audience is children from 7 to 14 years old, and for them we had to create something highly interactive and engaging. That's how Gamaya got started. The word gamaya is from the phrase asatoma sat gamaya, meaning "from ignorance lead me to truth." It's also a nice combination of game and maya (illusion).
"By basing the product on the Ramayana, we hope to provide a window into this epic. We can't cover all aspects of it, of course—it's just too big. But the game lets kids play in the Ramayana universe. It gives them an introduction to the characters and their stories. We expect this to inspire dinner-time conversations where kids can learn more from their parents.
An in-game image of the gameplay as Rama battles asuras in an attempt to save the pages of the Ramayana
"Gamaya Legends is an action game. We are not hiding that. The Ramayana involves the classic hero's journey—overcoming impossible challenges, forming great alliances and fighting evil. Gamaya Legends is no different. We do avoid blood and gore and stick to fantasy/cartoon violence, and we don't go looking for reasons to add action elements.
"While playing the game, kids save legendary scrolls of the Ramayana from being destroyed. These scrolls have illustrations and voice-over of the original Ramayana story. This way they get an introduction to the story through the game. We have also created an animated cartoon series that focuses on the characters from theRamayana (bit.ly/gamayalegends). This lets us go into greater detail with the characters and main story. At the end of it all, if the kids who engage with our products get inspired to know more about the epic, then our original goal is reached!
"Some of the customer feedback we've received has been very encouraging. To quote a few: 'This is a great game. I bought it for my 7-year-old son and he thoroughly enjoys it. This is a very nice way to introduce kids to such stories. Since the time my son has started playing this game, we have had several conversations about different stories at the dinner table and in the car.' Another parent said, 'My 6-year-old son knew the story ofRamayana, and now he is super excited to experience the characters coming to life. I cannot express my joy when he says that Rama and Hanuman are his superheroes.'"

An engaging introduction: The opening screen of the Gamaya Legends mobile game; an in-game image of the gameplay as Rama battles asuras in an attempt to save the pages of the Ramayana; a collection of the game's physical toys, which when placed on the book-pedestal come to life in the game
Some of the news items here have been taken from the HINDUISM TODAY magazine. You can subscribe to this excellent magazine. For more info. please Email subscribe@hindu.org
"Purifying" Politics: Jain Monk Addresses Haryana Assembly
Jain monk Tarun Sagar speaking to the Haryana assembly. Credit: Twitter
Jain monk and religious leader Tarun Sagar gave a 40-minute speech in the Haryana state assembly on Friday afternoon, invited to speak by education minister Ram Bilas Sharma.
Delivering his "kadve vachan" in the nude, the monk addressed a range of topics. This was the first event of its kind in the Vidhan Sabha and marked the opening of the monsoon session, Indian Express reported. He was seated on a dais, above the seats of the governor, chief minister and MLAs.
According to the monk, inviting him to speak did not indicate a saffronisation of politics. "Don't term it as saffronisation but as purification of politics. When religion enters politics, it brings purity. While it becomes a disaster when politics enters religion," Times of India quoted him as saying.
Everybody in the assembly, including the opposition, seemed pleased with the monk's presence, according to the Times of India report. The opposition Congress legislature party leader Kiran Choudhry and Indian National Lok Dal MLA Zakir Hussain were among those who greeted the monk on behalf of their MLAs. Chaudhary recited the opening lines of a bhajan – 'Guruji ko kariye vandana' – for him.
Politics must always follow dharma, the monk said, using the metaphor of a wife's "duties" and "subservience" to her husband. "Rajniti par dharam ka ankush zaroori hai. Dharam pati hai, rajneeti patni. Har pati ki yeh duty hoti hai apni patni ko samrakshan de. Har patni ka dharam hota hai ki woh pati ke anushasan ko sweekar kare. Agar rajneeti par dharam ka ankush na ho toh woh magan-mast haathi ki tarah… ho jaati hai (The control of dharma over politics is essential. Dharma is the husband, politics is the wife. It is the duty of every husband to protect his wife. It is the duty of every wife to accept the discipline of her husband. If there is no control of dharma over politics, it will be like an elephant out of control)," Indian Express quoted him as saying.
Praising Prime Minister Narendra Modi's 'Beti Bachao Beti Padhao' campaign, he added that he had come up with a solution to female foeticide that would tackle the "big problem" at the social, political and religious levels. "At the political level, the government should decide that those who do not have daughters should not have the right to contest Lok Sabha and Vidhan Sabha elections. At the level of society, people should not marry their daughters into families that do not have daughters. At the religious level, saints should decide that they will not accept alms from houses where there are no daughters. The result will exceed expectations if this formula is followed. We are living in the 21st century. Even today, when boys and girls are differentiated, I feel we are living in the 14th century," he said, according to the Indian Express.
The monk also raised the issue of terrorism, saying no religion promotes terror. His brought up Pakistan at this point, saying, "Humara padosi desh, sab ko maloom hai, atankvaad ko aasan de raha hai….Bhasmasur paida kar raha hai… Bharat ko pareshan karne ke liye. Mujhe lagta hai aaj nahi toh kal Bhasmasur tayyar kar raha hai apne liye. Ek baar galti kare woh agyan hai, do baar galti kare woh nadaan hai, teen baar galti kare woh shaitan hai aur jo baar baar galti kare woh Pakistan hai. Jo har baar shama kar de, woh Hindustan hai (Everyone knows that the neighbouring country is harbouring terrorism… creating Bhasmasurs to trouble India. If someone makes a mistake once he is ignorant, if someone makes a mistake twice he is innocent, if someone makes a mistake thrice he is the devil, and if someone makes a mistake repeatedly, that is Pakistan. And the one who forgives repeatedly is India)," Indian Express quoted him as saying.
---
UC Irvine Rejects DCF (Dharma Civilization Foundation) Gifts
IN FEBRUARY, 2016, four gifts of $1.5 million to the University of California Irvine to endow four professorships were withdrawn by the Dharma Civilization Foundation. The chairs were in Indic Civilization and Religious Studies, Sikh Studies, Jain Studies and the "Swami Vivekananda-Dharma Civilization Foundation Presidential Chair in Modern India Studies."
Shortly after the gifts were announced, the History Graduate Student Association at Irvine opposed the chairs. They charged that the donors sought influence in the process of selecting the individuals for the chairs in an effort to forward their own "social, religious and political agendas."
The gift documents state that the holder of the Indic Civilization and Religious Studies chair "will have a high level of proficiency in innovative, interdisciplinary research on Indic Religious Studies, … the equivalent of native proficiency in Sanskrit and in at least one contemporary Indian language and deep familiarity with India and Indian tradition, …[and] the ability to forge meaningful and productive partnerships with the Vedic and India heritage community in the Western diaspora." Contrary to the association's claim, the actual authority to appoint the chair remained exclusively with the university, and—beyond making suggestions—the donors had no say. It's not clear, then, how the association felt the donors could influence the selection process beyond the endowment's stated list of qualifications.
---
Five Star Mayor of Turin to Create Italy's First Vegetarian City
TURIN, ITALY, July 21, 2016 (The Guardian): From vitello tonnato – veal with tuna sauce – to beef braised in the Piedmont region's most famous red wine, brasato al Barolo, meat dishes have been central to the food tradition of northern Italy for centuries. But Chiara Appendino, the new mayor of Turin and a force in the populist Five Star Movement (M5S), could be about to change all that with her pledge this week to promote vegetarian and vegan diets as a "priority" in her administration.
According to M5S's 62-page manifesto – which also called for better urban planning and the protection of public land – Turin's new mayor said the endorsement of meat-free and even dairy-free living was fundamental to the protection of the environment, health, and the wellbeing of animals. While the specifics of the strategy have not been disclosed, the city is expected to set up educational projects in schools to teach students about animal welfare and nutrition.
The move is unprecedented in Italian municipal government, but is in keeping with the views of the eurosceptic M5S. The party espouses some progressive values, such as environmentalism, conservation and green energy, but is ambiguous on migration and did not support a recent extension of parental rights to LGBT Italians.
---
TRADITION
A Bridge from India to Japan
A YOUTUBE VIDEO ENTITLED Indian Deities Worshiped in Japan, posted in January, 2016, explains how Japanese culture and worship originated with India and Hinduism. The 52-minute film is made and narrated by famed photographer and historian Benoy K. Behl.
The documentary cites research showing that Japan's religious roots come largely from India. The Sanskrit language, first taught in Japan by an Indian Buddhist monk named Bodhisena, is written and chanted today in a Japanese style.
The documentary interviews H.E. Mr. Yasukuni Enoli, former ambassador of Japan. He explains, "Japan and India are very closely interconnected. If you go to a Japanese tomb, you may find Siddham (Sanskrit) letters, which few Japanese people can read." The film praises Japan's ability to retain some of India's culture better than India.
---
PAKISTAN
Hindu Marriages Allowed
THE SINDH PROVINCE IN PAKISTAN has become the first in the largely Muslim country to give Hindus the right to register their marriage.
The bill was passed in February, 2016, by lawmakers in Sindh—home to many of the nations three million Hindus. Hindus in the nation have never had a legal framework to register their unions until now.
Many Hindu couples say that not having their marriage registered has given them logistical problems with basic activities such as opening bank accounts, applying for visas, acquiring national identity cards and getting shares of property because they lacked proof of marriage. It can also be applied retroactively to existing unions.

A bride and groom go through a ritual during a mass marriage ceremony in Karachi, Pakistan's largest city. The bill comes at a time of increased violence against Pakistan's minorities. Many Hindus have fled to India in recent years.
However, the legislation also contains a controversial clause that allows the marriage to be annulled if any spouse converts.
The National Assembly is considering a wider bill on recognizing Hindu marriage rights, including issues of inheritance, divorce and child maintenance.
---
ART
Sartorial Statement
TANYA RAWAL, AN INDIAN American professor at the University of California, Riverside, started the hashtag #Saree-NotSorry in September, 2015, as a campaign to discourage negative attitudes towards Indian-Americans and bring attention to the positive aspects of Indian culture.
Rawal has been tweeting and instagramming pictures of herself wearing saris in myriad colors and fabrics, sometimes accessorized with belt and boots.
At first, the idea was just a teaching investigation. "My experiment was on what does it mean to be brown and a woman. I was hoping to generate some questions in the class around being a minority in this country," Rawal told reporters.
"I wanted to perform the intersection of the multiple social identities and political systems that shape my everyday life. And being a brown woman is definitely a complicated position, especially since 9/11, and especially with the increasing hatred towards immigrants in the United States. The Gurdwara shootings in Wisconsin, the police attack on Sureshbhai Patel in Alabama, and the death of Parminder Singh Shergill are just a few recent examples of the violence experienced in Indian-American communities.
"Fashion can politically align you with a place. And right now is not the time for me to politically align with the United States. Now when people look at me they have to see a different culture. A different fashion. A different aesthetic."
#SareeNotSorry has been used over 600,000 unique times since its beginning, as women share their stories and sari photos.

Identity crisis: "Being an Indian-American is painful for me sometimes, but I am grateful that my mother and nana gave me the tools to keep India close to my heart."
---
SANSKRIT
Sydney Siddhanta Course
IN FEBRUARY, 2016, THE SIVAGNANA Bodha Course was conducted by Dr. S. P. Sabharathnam Sivacharyar for more than 50 Saiva devotees in Sydney, Australia. The course was highly successful, with 49 students graduating on March 13. Each participant was awarded the title "Sivagnanac Cudar" (The Light of Siva Knowledge).
The course director, Mr. M. Arjunamani, said, "Based on our experience in conducting two courses on Saiva Siddhanta, we understand there is an unquenched thirst among Saivite Hindus of Tamil origin to study and research the primary books through knowledgeable gurus like Dr. S. P. Sabharathnam Sivacharyar."
Mr. Anbu Jaya, course student, reveals his experience: "I tried to read Saiva Siddhanta several times on my own, and every time I came across terminologies like pasu, pati, maya and pasa, it put me off. A few years back, a quote from a Thiruvasakam hymn, 'Blessings of God needed to worship Him' attracted my attention. Do I need God's blessings to worship Him? When I completed this course, I realized the meaning of these words."
---
Georgetown University, Washington DC, Appoints First Full-Time Director for Hindu Life
WASHINGTON, USA, August 10, 2016 (The Hoya): Brahmachari Vrajvihari Sharan will serve as Georgetown's first full-time director for Hindu life starting this fall, making him the first Hindu priest chaplain in the United States, according to a campus-wide email sent by Interim Vice President for Mission and Ministry Rev. Howard Gray. Sharan is also Georgetown's second Hindu chaplain after Pratima Dharm, who resigned in January 2015. Dharm had previously served as the United States Army's first Hindu chaplain. Before joining Georgetown, Sharan was honorary Hindu chaplain at the University of Edinburgh since 2010.
Sharan has had significant experience in both the practice and teaching of Hindu traditions. He was initiated in 2003 at Shri Golok Dham Ashram where he is currently a senior monk. Sharan completed further training at Vishwanath Sanyas Ashram and is an acharya, a trainer of Hindu priests known as pandits. Sharan received his Ph.D. in Sanskrit from the University of Edinburgh in 2015. He also served as a lecturer of Asian religions at Cardiff University in Wales and as a senior teaching fellow in Sanskrit at the University of London in England.
Gray said Sharan will become part of a passionate Hindu community — consisting of around 400 students and faculty members — at Georgetown. "Br. Sharan was drawn to Georgetown by its commitment to interreligious student formation, and by the vibrancy of the university's Hindu community," Gray wrote in the email. In addition to his work in as director for Hindu life, Sharan will serve as a chaplain-in-residence in New South Hall.
---
Dancing Shiva: Indian Villagers Still Waiting for the Return of Their Stolen Statue
INDIA, August 8, 2016 (ABC News): In Sripuranthan's temple, the village's Hindu priest recites a hymn and makes offerings to the God Nataraja — the dancing Shiva — seeking the blessing of village elder Subramaniam. But where the town's prized, 900-year-old bronze Shiva statue should stand is a mere poster. Two years after the Australian National Gallery gave a stolen sculpture back to India, it remains in police storage — and the south Indian villagers awaiting its return say they still do not know when their prized Dancing Shiva will come home.
Outside, Subramaniam says villagers' pleas for its return have so far been ignored. "We've asked the Government to have the statue back. It is very sad that the Government has not returned it to us," he says. The statue sits locked in police storage, as evidence against the man accused of masterminding its theft, Subhash Kapoor.
Thieves broke into the temple in 2006, making off with the valuable icon. Kapoor, who is in prison in India awaiting trial after being extradited from the US, then allegedly forged documents about its origin, and ultimately sold it to the Australian National Gallery. The statue was brought back for one festival, but police then took it away again. With fresh allegations still being made against Kapoor, the case against the accused thief is likely to drag on for years.
---
Big Turnout at National Hindu Talks in Fiji
SUVA, FIJI, August 7, 2016 (Fiji Sun): The third National Hindu conference attracted all Hindu volunteers, organizations and temples to showcase their contribution to Fiji. The event at Studio 6 in Suva yesterday drew at least 200 delegates from government agencies, businesses, volunteers and Hindu organisations.
President of Vishva Hindu Parishad (VHP) Fiji, Jay Dayal said: "The conference provided a platform to address how successful Hindus have been serving their communities." "This was in line with our conference theme Serving Community, Serving Fiji." Mr. Patel said the one of the major task undertaken by the VHP was their enormous involvement in the relief work for post Cyclone Winston.
High Commissioner of India to Fiji, Shri Vishvas Sapkal, said it was heartening to note that people of Fiji had retained their cultural values and developed organizations to preserve and sustain them. The conference ends today.
---
Jay Lakhani Posts Free Course on Hinduism
LONDON, ENGLAND, August 8, 2016 (Press Release): Jay Lakhani, a popular lecturer and teacher of Hinduism in UK, has launched a free set of 10 half-hour courses on the basics of Hinduism (available at "source" above). The aim of the course is to give a structured and sensible teaching of Hinduism to thousands of Hindu youth worldwide.
Other popular video series by Lakhani:
Questions and Answers on Hinduism with 42 clips
https://www.youtube.com/watch?v=Y6GBWx … qEqwJBTLO2NFCq_flRzZ2SsqB
Arise my India series of 20 clips
https://www.youtube.com/watch?v=20rK52 … qEqyagDYlqj6yKdssZpcFfD7D

---
Megatrends
KAPAA, HAWAII, August 5, 2016 (HPI): Back in 1992 Hinduism Today developed a list of 12 Megatrends (and 8 Minitrends) focusing on the continuing evolution of Sanatana Dharma. This list is dated, and so we are preparing an upgrade, and seeking creative and savvy input that will make the 2017 edition even more insightful. Please help us update this list! Comments for additions, changes, deletions, may be sent to our Editor in Chief here: sadasivanatha@hindu.org
12 MEGATRENDS:
1) More temerity. We see a replacement of historical timidness with a new-found pride and determination to preserve dharma. This is being called the Hindu Renaissance.
2) Rebirth of Ritual. When the Germans first brought Hinduism to the West, philosophy was emphasized and ceremony ignored. When Vedanta swept into Europe and America, nothing was said about puja. Today's seekers don't just listen to lectures anymore, and they aren't agonizing over idol worship, as did their less-informed forerunners. Instead, they are mastering the mantras and sitting for long, elaborate rites. This devotional thrust has become a major theme in Hindu groups and yoga institutions
3) Influence Outside India. An intensification of the influence of Hindu dharma in the West, including environmental groups, the health and vegetarian movement, the ecumenical movement, the yoga movement, new age movement and more
4) The Ascent of Women. The emergence of women at all levels of Hindu religion, and their refusal to tolerate unfairness in forced marriages, spouse abuse or economic disadvantage:
5) Temples Return. The reversal of centuries of decline in temple emphasis, reflected in the remarkable flood of temples being constructed, especially outside of India. In a related trend, lesser tirthas, once considered low-caste, are becoming popular and losing their stigma – Katiragama and Sabarimalai are examples. Thus, old pilgrimage sites are now competing with new, aggressively-financed ones
6) More Seva, More Outreach. A tendency to be more extroverted, to creatively reach out to help and serve others coupled with the institutionalization of many kinds of social service and the sometimes violent approach to solving social problems;
7) Building Resources. Once-scarce Hindu resources are becoming abundant. These include children's courses, Hindu schools and academies for art, dance and music, a first-ever Hindu encyclopedia, the rise of Sanskrit studies and more university courses focusing on Asian studies
8) India's Rise. India's emergence as the world's newest superpower, a fact made more momentous by the 1992 demise of communism
9) Touting Technology. The dizzy change from an agricultural era to one of technology, nuclear power, space exploration and communications (backyard satellite TV dishes giving uncensored access to Western broadcasting, and Apple computer's recent agreement to produce Macintoshes in India are two indications)
10) Setbacks. Key setbacks, such as difficulties in preserving the culture and tradition, failure to teach Hinduism to a whole generation of children, abandoning the vegetarian ethic, public perception problems caused by "anti-cult" Christians like TV evangelist Pat Robertson and the (now deceased) non-Hindu leader Rajneesh
11) Academia. Increased academic honesty. Hindus (and most non-Christians, including American Indians, Jews, Hawaiians and Pagans) have endured the abuse flung their way by scholars of the past. Even dictionary writers have published their prejudices. An early Webster's New International Dictionary defines swami as "often equivalent to yogi, fakir, wonder-worker, etc." Recently Webster has done better in its New World Dictionary: "A Hindu title of respect, especially for a Hindu religious teacher: a learned man. pundit." That improvement reveals the new intellectual balance among scholars toward on-Christian matters
12) Wider View. Movement away from village life and consciousness to a global presence.
8 MINITRENDS:
13) Trademark Wars. Corporate protectionism. Something extraordinary is happening in the global dharma business. Hinduism is doing well in the marketplace, and people want a piece of the action. SYDA copyrighted the term Siddha Yoga. Another group is seeking exclusive use of Self-Realization. A third is said to have locked up the word vairagi, the term for a desireless and detached soul. Does all this portend a future where groups divide up our spiritual teachings and terms, then fight to defend their claims? One hopes not.
14) Cry for Justice. Condemnation of injustice. There is a loud cry among Hindus against injustice toward untouchables, widows, wives and children. If this sounds familiar, it is. Every society is looking at these issues more now than ever.
15) New friendships. One hears too little about the smaller, gentler cultures with no voice in politics. Recently, Pagans, Polynesians, Wiccans, Gypsies and Aborigines have rediscovered a kinship with Hinduism and are forging informal ties. A related trend is the fast growing rapport of Indians and Blacks.
16) Less strict mores. Historically, swamis and sadhus have been celibate monks. In fact, if one was not, he was assiduously avoided, even maligned. There is a trend of late for Hindus to accept, or at least tolerate, married swamis. A related microtrend is coed ashram life. The strict separation of single men and women engaged in yoga and spiritual pursuits is no longer an assumed protocol. Men and women are sharing the same living facilities, and experiencing the often difficult consequences of such arrangements.
17) Redefining Hinduism. Oddly, to call oneself a Hindu in India carries with it an implication of communalism. Hinduism is reemerging there, but political ambitions are in the way. A new model of Hinduism needs to be developed and defined in a universal sense. There is a tendency in India to misrepresent and improperly classify Hinduism as right wing and fundamentalist, whereas Hinduism stands for ecology, vegetarianism, etc. (which are left wing in the West). Hinduism is a positive term. For a long time, people would say, "I'm a Christian" or "I'm a Buddhist," but the Hindu would say, "I'm a follower of all religions." That's not so true today.
18) Burial versus cremation. In Sri Lanka, under the weight of years of ethnic struggles that have cost 17,000 lives, Hindus have stopped cremating and begun to bury their dead. A similar trend is emerging outside of Asia, where cremation facilities are lacking and burial is the only option.
19) Dharma can be entertaining. Major visitor centers are evolving, designed around Hindu thought and culture. Swaminaranaya's Cultural Festivals. TM's Disney-like Veda-Land and the Brahma Kumaris" Global Museum in Kenya are examples. Also, bold. Creative movie-makers are finding new ways to make the old epics like Mahabharata and Ramayana work, and films are breaking out of old constraints.
20) No more Colonial mind. Once Hindus wanted to ape everything Western. No longer. It's stylish to be yourself these days. One result: we are enjoying our uniqueness and breaking our addiction to comparing ourselves with the rest or the world.
MEGATRENDS is a term coined by futurologist John Naisbett in 1982 to name the major underlying forces that are transforming society and shaping the future. To formulate these ten Hindu megatrends, we solicited the advice of the following prominent Hindu religious leaders, scholars, priest and business people. Each contributed to our analysis, however, the final conclusions as given above are the responsibility of Hinduism Today alone: Swami Bhasyananda, Vivekananda Vedanta Society, Illinois; Swami Dayananda Saraswati, Arsha Vidya Pitham, Pennsylvania; Swami Parvati Devyashram, Sri Rajarajeshwari Peetham, Pennsylvania; H.H. Sri Swami Satchidananda, Integral Yoga Institute, Virginia; Pundit R. Ravichandran, priest, California; Mr. Vidyasagar Anand, Chairman, European Council of Hindu Organizations, United Kingdom; Dr. Mahesh Mehta, President, Vishwa Hindu Parishad of America, Massachusetts; Dr. S.M. Ponniah, Advisor, Malaysia Hindu Sangum; Dr. David Knipe, Professor of South Asian Studies, University of Wisconsin; Dr. Seshagiri Rao, Professor of Hindu Religion, University of Virginia; Dr. H. Daniel Smith, Professor of Religion, Syracuse University, New York; Mr. Arvind Ghosh, publisher, Texas; Mr. Srikumar Poddar, businessman, Michigan
11. Home at Last (BOOK REVIEW)
A Journey Toward Higher Consciousness
By: Sarada Chiruvolu, Amma Sri Karunamayi (Foreword by)
One woman's journey from a career track in the pharmaceutical industry to spiritual awakening. Through her encounters with her native Indian spiritual tradition and pilgrimages to meet spiritual teachers in Indian ashrams, Sarada Chiruvolu undertakes the practice of meditation with the goal of attaining self realization. "Home at Last" explains and gives specific signposts and landmarks that we encounter during the journey toward realization or enlightenment, based on the author's direct experience. The book also lets readers know what they can expect when confronting the mysterious, awakened inner force called kundalini. It explains how our outlook and goals change radically as the awakened inner energy directs our day-to-day life, instead of our normal egoic self. Part spiritual memoir, part meditation handbook, Chiruvolu's writings are clear and accessible yet contain profound spiritual insights covering: – The nature of prana, or vital life force; how to increase its presence in our system; and the process of transmitting pranic energy from teacher to student, known as shaktipat.- Detailed information on the important roles of diet, exercise, and training the mind in preparation for the journey of realization.- The physical and psychological challenges one can expect during the extended process of awakening and raising the kundalini or inner energy.- Possible impediments to raising the energy from the base of the spine to the crown of the head, how to cope with and transcend them.- How to adapt to living and working with this powerful new energy in the context of everyday life.
Sarada Chiruvolu writes in her Introduction, The individualized divinity within each of us must merge with the Absolute to experience the final destination and remain there. For a rendition of one's "awakening one's divinity in one's humanity and one's humanity in one's divinity" from a classical Indian perspective, I highly recommend Home At Last as Chiruvolu has succeeded admirably. In common language, she explicates what is inexplicable–the "not this, not that" of what we label reality. She even alludes to what contemporary quantum physics is revealing about what the ancients long ago subscripted. –Robert M Dittler, Ph.D., O.S.B.. Abbot-Bishop, White Robed Monks of St. Benedict Sarada Chiruvulo's new book brilliantly takes the reader on a profound journey on the road toward enlightenment. In sharing her personal spiritual experiences in a very clear and lucid style…Sarada lights the way for us to walk the mystical path with practical feet. Home At Last invites us to dive deep and explore the divine waters of the ocean of bliss with Sarada as our trusted guide! –Dennis M. Harness, Ph.D., Vedic Astrologer and Writer If you are unwaveringly inclined toward spiritual discovery, especially while grounded in a "normal" family, work, and social life, you will find Home At Last an outpouring of wisdom, education, and guidance. Sarada Chiruvolu's Home At Last reveals her journey in a caring, practical way that is truthfully spoken. –Jerry Katz, Nonduality.com Sarada Chiruvolu takes us into a powerful journey of self-discovery and realisation. From meeting with her Guru, to her many pilgrimages to the spiritual centers of India to her deep devotion in exploring the higher realms of consciousness, Home At Last is a wonderful inspiration to those who are interested in finding the deep core of inner peace and consciousness. The most important aspect of Chiruvolu's path is that she remained in the world and continued her explorations without sacrificing her worldly ties. Her journey brought added light to her world and she will inspire you all to do so too. She gives us many techniques, information and knowledge of how to. Highly recommended and a must read. –Komilla Sutton, author The Essential Vedic Astrology, President of the Komilla Academy of Vedic Sciences Inc and Chair of British Association of Vedic Astrology.

As per Ayurveda pitta dosha aggravation and liver imbalance can cause eye problems. Consume milk, butter, ghee, grapes, cherries, avocados, coconuts, pomegranates, pineapples to pacify pitta. Eat Vit A rich foods like carrots, pumpkins, oranges, papayas and mangoes. Herbs like bilberry, turmeric, green tea and triphala help treat and support healthy vision.
Curejoy Expert Dipti Mothay Explains:
Eye problems are on the rise; the National Eye Institute estimates that, between 2010 and 2050, the estimated number of people affected by the most common eye diseases will double.
Causes of Weak Eyesight
Weak eyesight is generally associated with focusing difficulties (myopia, hypermetropia, astigmatism), vision obstruction (cataract), damage to the optical nerve (glaucoma), retinal damage, macular degeneration and other conditions (dry eyes, watery eyes). Aging and excessive strain tend to be the major culprits. Medical conditions like diabetes or eye infections can further accentuate the problem. Genetics also plays a role.
Ayurvedic Doshas and Eye Sight
Ayurveda places great importance to eye care, deeming the eye as the most important among all the sense organs and most easily afflicted by the imbalance of basic body humors (doshas) which results in its decreased/disturbed function. All procedures which balance the Doshas (somatic and psychological) are important for the treatment of eye. Ayurveda also provides a specific class of medicines and procedures called 'Chakshushya rasayana' for targeted action on the eye and visual apparatus.
To understand the Ayurvedic view of eye disorders, it is important to understand the Doshas and how they impact the eye.
Pitta Dosha
The Pitta Dosha controls all transformation processes in the body. Different types of Pitta are associated with various processes e.g. digestion, blood cell formation, vision – there is even a Pitta for processing, storing and assimilation of information.
Eye disorders related to degeneration of any part of the eye apparatus are opined to be a result of Pitta Dosha disorder.
Imbalance in Pachaka Pitta (digestion) impacts Ranjaka Pitta (blood quality) which in turn impacts supply of nutrition to the eye.

Imbalance in Alochaka Pitta (the vision Pitta) impacts photochemical operations and retinal function.

Imbalance in the Sadhaka Pitta (information assimilation) causes problems in processing of images in the brain.
Too much Pitta causes stress and damage. Too little Pitta results in deficiency in function.The Pitta view of Ayurveda ties in closely with the modern view of oxidation and inflammation being key reasons for weakening of eye sight.
Vata Dosha
The Vata Dosha governs movement and circulation of essential elements (food, water, blood, oxygen, urine, enzymes and even neural impulses) throughout the body.
Imbalance in Vata Dosha can manifest as blood circulation problems (impacting nutrition reaching the eye), problems with circulation and replacement of aqueous humor (to keep the eye moist and clean and to keep the eye muscles supple), dryness of the eye or problems in transporting signals to the brain.
Kapha Dosha
The Kapha Dosha represents the elements that physically make up the body i.e. bones, flesh, blood, muscles, tissues, nerves, bodily fluids, mucus etc.
In the context of the eye, Kapha Dosha governs all the physical parts of the eye apparatus as well as vitreous and aqueous humor that lubricates the eye. Excessive Kapha tends to accumulate and cause blockages e.g. accumulation of mucus in the sinus cavities can cause strain on the eyes. Inadequate Kapha can manifest in the form of weak muscles or dryness.
Vata, Pitta and Kapha are also inter-related in their action. Inadequate Pitta may cause excess in Kapha and vice versa. Imbalance in Vata can cause Kapha accumulation or disturb Pitta action. Balance of these Doshas is the key to a healthy body, including eyes.
Ayurveda Recommendations For Eye Care
Depending on the nature of the problem, Ayurveda recommends a specialized combination of diet, medicines and procedures to vitiate any imbalance in the Doshas that might be responsible.
At the same time, Ayurveda provides some generic recommendations as well that are applicable independent of the specific Dosha disorder [1]:
What To Avoid
Excessive intake of spicy and salty food

Excessive fluid intake

Eating at night

Sudden temperature variations e.g. diving into water on a hot day

Excessive gazing at objects

Sleeping during the day, staying awake at night

Excessive weeping

Suppression of natural urges

Sleeping with the head either too high or too low as compared to rest of the body

Excessive anger or grief
Procedures for Eye Care
Foot massage, especially between the first and second toes, centre of the sole, heel and outer margins, behind both sides of the ankle – stimulates all the chakras

Cold water application and gentle immersion of eyes in cold water – hydrates the eye and relieves strain on eye muscles

Splashing cold water into eyes while holding some water in your mouth – hydrates the eye, improves blood circulation and relieves strain on eye muscles

Palming (mildly rubbing and massaging your eyes with your palm and fingers) – improves blood circulation

Nasal drops (mildly salty warm water or herbal aqueous solution) – helps dissolve mucus and relieve strain on eye muscles
Diet
As per Ayurveda, including the following items in your diet can be beneficial for eyesight:
Vegetables and Herbs: Asparagus,Barley, Green Gram, Sponge Gourd, Brinjal, Amalaki (Indian gooseberry), Spiny Gourd, Bitter Gourd, Drumstick, Carrot, Pumpkin, Raw banana, Radish, Coriander, Curry Leaf, Turmeric, Kair fruit, Acanthus, Meshasringi (Gymnema), Hogweed, Jeevanti
Fruits: Mango, Orange, Guava, Papaya, Apple, Pomegranate
Dairy Products and Oils: Milk, Ghee, Mustard Oil, Sesame Oil, Coconut Oil
It must be noted that recommended diet mostly includes items rich in Vitamins A and C, and have anti-oxidant and anti-inflammatory properties.
Medicines
Triphala is recommended as the medicine par excellence for maintaining good eye sight (and for longevity and health in general) [2]. Triphala is a combination of 3 fruits – Amalaki (Indian goosebery), Bibhitaki and Haritaki.
Depending on the type of Dosha imbalance, Triphala can be mixed with ghee, oil or honey for the most beneficial effect.
External/Topical Use Of Triphala For Eye Care
Netra Prakshalana – Ocular wash/Splashing with Triphala aqueous solution.
Netra Seka – Therapeutic Ocular irrigation in closed eyes from a height of 7-8 cm.
Aschyotana – Instilling medication in drop form a height of 3-4 cm. This method is most highly recommended by Ayurvedic scholars.
Vidalaka and Pindi – Medicated application over closed eyes in paste as well as poultice form.
Anjana – Application of medicine in conjunctival sac.
Tarpana – Satiating eye with ghee by retaining it on eye ball and blinking continuously for a stipulated period.
Putapaka – Pouring and withholding various form of medicated extracts prepared by specific pharmaceutical process called putpaka in open eyes followed by blinking continuously for a stipulated period.
Preclinical studies have shown that Triphala is a potent free radical scavenger and possesses antioxidant, anti-inflammatory, antipyretic, analgesic, antibacterial, antimutagenic, adaptogenic, anticancer, and hypoglycemic effects. Recent studies have confirmed that Triphala is beneficial for multiple eye problems such as dry eye [3] and Computer Vision syndrome [4].
References
Sharma, Priyanka, P. K. Sharma, and Mangalagowri V. Rao. "Eye Care Through Swathavritta and Yoga." PunarnaV, MONTH 2.2 (2014).
Gopinathan, G., and K. S. Dhiman. "Triphala in Eye Diseases: A Critical Review." J Homeop Ayurv Med 2.123 (2013): 2167-1206.
Moharana, Haramohan, Pradipkumar Panda, and Laxmi Maharana. "Role of Netra Tarpana with Triphala Ghrita in Dry Eye: A Clinico-Pathological Evaluation." Journal of AYUSH:-Ayurveda, Yoga, Unani, Siddha and Homeopathy 4.3 (2015): 1-8.
Gangamma, M. P., and Manjusha Rajagopala. "A clinical study on" Computer vision syndrome" and its management with Triphala eye drops and Saptamrita Lauha." AYU (An international quarterly journal of research in Ayurveda) 31.2 (2010): 236.


---
HEALTH IN YOUR HANDS WORKSHOP (WATCH & LEARN)
GAUR GOPAL PRABHU – THE CUP OF LIFE
13. SPIRITUAL HUMOUR
A little boy in Newfoundland , wanted $100.00 for something very special. He prayed for weeks, but nothing happened .
Then he decided to write God a letter requesting the $100.00.
When the postal authorities received the letter to God , Canada, they decided to send it to the Prime Minister.
The Prime Minister was so amused that he instructed his secretary to send the little boy a $5.00 bill.
The Prime Minister thought this would appear to be a lot of money to a little boy in Newfoundland .
The little boy was delighted with the $5.00 bill and sat down to write a thank-you note to God, which read:
Dear God: Thank you very much for sending the money.However, I noticed that for some reason you sent it through Ottawa, and those ass….. took $95.00 in taxes.
---
She's only in her 40s, but my friend Mary has bounced back from cancer, heart problems, even a stroke. Through it all, she and her husband, Mark, have kept their sense of humor. One day she said, "You know what kills me … ?"
Smiling, Mark teased, "Apparently nothing."
---
At the restaurant, a sign read "Karaoke Tonight!" Grandma studied it before asking, "What kind of fish is that?"
---
After I bought my mother a compact-disc player and some CDs, she was excited to discover she no longer needed to rewind or fast-forward tapes or move the needle on her record player.
Knowing she was not that technically astute, I called her a few days later to see how she was managing. "Fine. I listened to Shania Twain this morning," she said.
"The whole CD?" I asked.
"No," she replied, "just one side."
---
After booking my 90-year-old mother on a flight from Florida to Nevada, I called the airline to go over her needs. The woman representative listened patiently as I requested a wheelchair and an attendant for my mother because of her arthritis and impaired vision. I also asked for a special meal and assistance in changing planes.
My apprehension lightened a bit when the woman assured me everything would be taken care of. I thanked her profusely.
"Why, you're welcome," she replied. I was about to hang up when she cheerfully asked, "And will your mother be needing a rental car?"
---
The insurance agency I work for draws business from a retirement community. Once, when applying for auto insurance for a client, I asked him how many miles he drives in a year. He said he didn't know.
"Well, do you drive 10,000 miles a year?" I asked, "or 5,000?"
He said the numbers sounded high. "What month is this?" he asked. I told him it was July.
"Maybe this will help," he said. "I filled the car with gas in February."
---
भलेई माता मंदिर, चम्बा


देवभूमि कहे जाने वाले हिमाचल प्रदेश में प्रसिद्ध और मान्यता प्राप्त तीर्थस्थल मौजूद हैं. इसकी के साथ यहां मौजूद घूमने की जगहों के कारण भी हिमाचल टूरिस्टों के बीच काफी जाना जाता है. इसकी प्रसिद्धि को और बढ़ा रहा है यहां के चम्बा जिले में स्थित प्रसिद्ध देवीपीठ भलेई माता के मंदिर.
भलेई माता के मंदिर में वैसे तो हर दिन हजारों की तादाद में श्रद्धालु आते हैं, लेकिन नवरात्रों में यहां विशेष धूम रहती है. यह मंदिर अपनी एक अजीब मान्यता को लेकर अधिक जाना जाता है, जिस पर यहां आने वाले श्रद्धालु विशेष यकीन रखते हैं. यहां के बारे में मान्यता है कि इस मंदिर में देवी माता की जो मूर्ति है, उस मूर्ति को पसीना आता है.
लोग यह भी मानते हैं कि जिस समय देवी की मूर्ति को पसीना आता है, उस वक्त वहां जितने भी श्रद्धालु उपस्थित होते हैं, उन सबकी मनोकामनाएं पूरी हो जाती हैं. गौरतलब है कि भलेई एक ऐसा देवीपीठ हैं जिसके बारे में यहां के पुजारी कहते हैं कि देवी माता इसी गांव में प्रकट हुई थी. उसके बाद इस मंदिर का निर्माण करवाया गया था.
इसलिए यह व्रत सर्वश्रेष्ठ और परम फलदायक है
शास्त्रों के अनुसार जो व्यक्ति एकादशी के दिन व्रत रखकर भगवान विष्णु की पूजा करता है उसके कई जन्मों के पाप कट जाते हैं और व्यक्ति विष्णु लोक में स्थान प्राप्त करता है।
संस्कृत शब्द एकादशी का शाब्दिक का अर्थ ग्यारह होता है। एकादशी पंद्रह दिवसीय पक्ष ( कृष्ण पक्ष और शुक्ल पक्ष ) के ग्यारवें दिन आती है। शास्त्रों के अनुसार हर वैष्णव को एकादशी के दिन व्रत करना चाहियें। यह ब्रत मनुष्य जीवन के लिए अत्यंत लाभकारी हैं। 28 अगस्त को जया एकादशी व्रत है।
पुराणों में सभी व्रतों में एकादशी व्रत का बड़ा महत्व बताया गया है। पूरे साल में 24 एकादशी आती है । एकादशी का आरम्भ उत्पन्ना एकादशी से होता है। ऎसी मान्यता है कि इसी एकादशी से एकादशी के व्रत की शुरुआत हुई थी। शास्त्रों के अनुसार सतयुग में इसी एकादशी तिथि को भगवान विष्णु के शरीर से एक देवी का जन्म हुआ था। उस देवी ने भगवान विष्णु के प्राण बचाए थे जिससे प्रसन्न होकर श्री विष्णु जी ने इन्हें एकादशी नाम दिया।शास्त्रों के अनुसार जो व्यक्ति एकादशी के दिन व्रत रखकर भगवान विष्णु की पूजा करता है उसके कई जन्मों के पाप कट जाते हैं और व्यक्ति विष्णु लोक में स्थान प्राप्त करता है। शास्त्रों के अनुसार एकादशी का ब्रत रखने वाला संसार की मोहमाया के प्रभाव से मुक्त हो जाता है, उसमें बुराइयाँ समाप्त होती जाती है और एकादशी के ब्रत के पुण्य के प्रभाव से वह व्यक्ति विष्णु लोक में स्थान पाता है।
एकादशी के ब्रत को सभी ब्रतों में श्रेष्ठ माना जाता है । इस दिन योग्य ब्राह्मणो को यथा शक्ति दान दक्षिणा भी देना चाहिए । इस व्रत को करने से समस्त इच्छ‌ाएं पूर्ण होती हैं और भगवान श्री हरि विष्णु और माँ लक्ष्मी अति प्रसन्न होते हैं। जातक को जीवन में धन, यश, आरोग्य, विघा, योग्य पुत्र , पारिवारिक सुख, ऐश्वर्य तथा मनोवांछित फलों की प्राप्ति होती है और अंत में वह विष्णु लोक को जाता है। उसके पितृ भी तर जाते है, उन्हें स्वर्ग में स्थान मिलता है। जातक की आने वाली पीढियों को भी इस ब्रत का लाभ मिलता है। इसलिए यह व्रत सर्वश्रेष्ठ और परम फलदायक है।
हिन्दु धर्म के सभी धर्म ग्रन्थ एकादशी के दिन पूर्ण रूप से उपवास करने को करते हैं। शास्त्रों के अनुसार इस पृथ्वी में पुण्य फलो की प्राप्ति के लिए आठ वर्ष से अस्सी वर्ष तक के सभी मनुष्यों को एकादशी के दिन व्रत अवश्य ही रखना चाहिए। शास्त्रों के अनुसार जो पूर्ण रूप से उपवास नहीं कर सकते है वह दोपहर या संध्या काल में एक बार भोजन कर सकते हैं। परन्तु इस दिन किसी कोई भी , किसी भी रूप या स्थिति में अन्न को ग्रहण नहीं करना चाहिये। एकादशी व्रत करने की इच्छा रखने वाले मनुष्य को एकादशी से एक दिन पहले दशमी के दिन मांस, प्याज, लहसुन , मसूर की दाल आदि निषेध वस्तुओं का सेवन नहीं करना चाहिए एवं रात्रि को पूर्ण ब्रह्मचर्य का पालन करना चाहिए ।
एकादशी से एक दिन पहले अर्थात दशमी के दिन रात को सोने से पहले अच्छी तरह दाँत को साफ करके सोना चाहिए । एकादशी के दिन प्रात: लकड़ी का दातुन या मँजन न करें, वरन उँगली से कंठ को अच्छी तरह से साफ कर लें, और पानी से बारह बार कुल्ला कर लें। फिर स्नानादि कर गीता पाठ एवं उस दिन की एकादशी की कथा को पढ़े करें या पुरोहितजी से श्रवण करें। उस दिन ब्रत करने वाले को प्रभु के सामने यह प्रण करना चाहिए कि ' आज मैं कोई भी बुरा काम, बुरा आचरण नहीं करूँगा , किसी का दिल नहीं दुखाऊँगा ना ही दुष्ट मनुष्यों से बात करूँगा और रात्रि को जागरण कर कीर्तन करूँगा।'
एकादशी के दिन 'ॐ नमो भगवते वासुदेवाय' इस द्वादश मंत्र का अधिक से अधिक जाप करें। इस दिन विष्णु के सहस्रनाम भी पाठ करें । भगवान विष्णु से प्रार्थना करें कि- हे ईश्वर आप मुझे इस ब्रत को विधिपूर्वक पूरा करने की शक्ति प्रदान करना।
इस दिन यदि भूलवश कोई बुरा आचरण हो भी जाय तो प्रभु श्रीहरि की पूजा कर उनसे क्षमा माँग लेना चाहिए। एकादशी के दिन ना तो घर में झाड़ू लगाएं और ना ही इस दिन बाल कटवाएं । इस दिन अधिक बोलना भी नहीं चाहिए। क्योंकि अधिक बोलने से मुख गलत शब्द भी निकल जाते हैं। एकादशी के दिन क्रोध नहीं करते हुए मीठे, मधुर वचन ही बोलने चाहिए।
एकादशी के दिन निम्न चीज़े अवश्य करे :
* एकादशी के दिन यथाशक्ति दान अवश्य ही करना चाहिए।
* इस दिन चाहे आपने ब्रत रखा हो या नहीं लेकिन आप किसी भी दूसरे मनुष्य का दिया हुआ अन्न बिलकुल भी ग्रहण न करें। ।
* ब्रत रखने वाले को एकादशी के दिन गाजर, शलजम, गोभी, पालक, कुलफा का साग इत्यादि का सेवन नहीं करना चाहिए।
* इस दिन दूध, सेब, आम, अंगूर, मेवो में बादाम, पिस्ता , दूध इत्यादि का सेवन करें। इस दिन प्रत्येक वस्तु को प्रभु को भोग लगाकर तथा तुलसीदल छोड़कर ग्रहण करना चाहिए।
* एकादशी के अगले दिन अर्थात द्वादशी के दिन ब्राह्मणों को मिष्ठान्न, दान दक्षिणा अवश्य ही देना चाहिए और उन्हें भोजन कराने के बाद ही स्वयं भोजन करना चाहिए ।
जया एकादशी व्रत से मिलती है पिशाच योनी से मुक्ति। शास्त्रों में कहा गया है कि जो व्यक्ति श्रद्घा पूर्वक जया एकादशी का व्रत रखता है वह ब्रह्महत्या जैसे महापाप से छूट जाता है। इस व्रत के पुण्य से व्यक्ति को पिशाच योनी से भी मुक्ति मिल जाती है।
शास्त्रों में बताया गया है कि इस व्रत के दिन पवित्र मन से भगवान विष्णु की पूजा करनी चाहिए। मन में द्वेष, छल-कपट, काम और वासना की भावना नहीं लानी चाहिए। नारायण स्तोत्र एवं विष्णु सहस्रनाम का पाठ करना चाहिए। इस प्रकार से जया एकादशी का व्रत करने से भगवान विष्णु की कृपा प्राप्त होती।
TO WATCH CLICK ON THE IMAGE ABOVE.
Brilliant stuff !! Why Cow is Holy ? – By London Based Physicist Jay Lakhani
Miracles of Lord Krishna | Janmashtami Special |
IN HINDI
JAI JAI MAA SHERANWALI MAA DHUN BY NARENDRA CHANCHAL I AUDIO SONG
16. Live Video Streaming – Daily
We are now streaming live daily. This
includes our Sunday service
led by Dr. Doobay between 10:15 AM and 12 Noon, EST.
You can watch live and recorded video in 2 formats:
http://livestream.com/accounts/12417283/events/3849321
(Opens new window. We want your comments!) Live Video only, embedded below The best way to watch our live stream is to install the Live stream app on your device (Apple AppStore, Google Play, Roku box).
Previous editions
The previous editions of Sunday Service are available on our YouTube Channel.
https://ww.youtube.com/user/vovtoronto
17. Doobay Medical Centre, Guyana
DOOBAY MEDICAL CENTRE, Annandale, Guyana is a Registered not for profit organization active since October 15, 2011, Funded and supported by donations.
The hospital building was donated by the Doobay family.
Dr. Budhendra Doobay is a Chairman of the Vishnu Mandir, an eminent Guyanese Canadian Philanthropist and vascular surgeon. He has received the Order of Ontario, the Queen's Golden and Diamond Jubilee medals and a number of other awards.
How you can help this great cause, please call Leonard Sanicharan at 416 497 3555 or Pandit Bhoj at 905 886 1724
---
---
Copyright © 2016 VISHNU MANDIR, All rights reserved.